Wedding Ties:
Are you looking for silk ties that match your wedding theme? Whatever the color might be, at Uniform Ties we carry a large range of necktie and bow tie colors in stock. From our many requests on wedding ties, we gathered a few commonalities: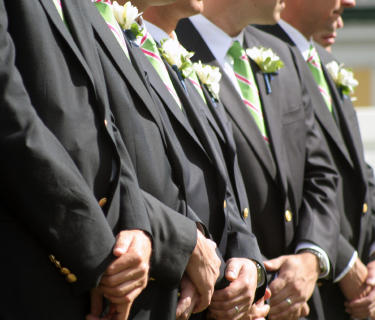 Color Matching Ties:
Most weddings occur during the spring and summer. The warm and sunny days harmonize quite well with warm and fresh colors such as light yellows, moss green, peach, pink, and apricot. Besides these slightly brighter colors, the classic colors of champagne, silver, and platinum are always popular for wedding neckties and bow ties. At Uniform Ties we always carry a large assortment of solid color ties in stock, and we are confident you will find the perfect matching wedding ties on our site.
Neckties, Bow Ties, and Pocket Squares:
Although neckties are slightly more popular for weddings, bow ties are always a classy alternative. Often times we receive orders that consist of one bow tie for the groom, and matching neckties for the groomsmen. Pocket squares are ordered on occasion as well, but typically corsages take their place.
Flexible Return Policy:
Even though we have professional pictures taken of all our ties, the color you see on your monitor doesn't always represent the true color of the necktie. This has in part to do with the calibration of your monitor. If you are uncertain weather or not a color will match, simply order a sample tie first. Should the tie not be a perfect match, simply send it back to us, and we will refund your credit card. At Uniform Ties we strive to give the best possible customer service, and a flexible return policy is part of it.
Uniform
wedding neckties
to discount prices. Helpful things to know for couples and wedding planners abouf wedding attire for groom and groomsmen.