Neckties for School Uniforms:
School Uniforms are most common in the Commonwealth. Almost every school in Great Britain and Australia use school uniforms. Neckties are almost always present as well. Over time we have learned a few commonalities that almost all our customers share. If you are interested in information on what other schools look for when deciding on their Uniform Ties, please read on: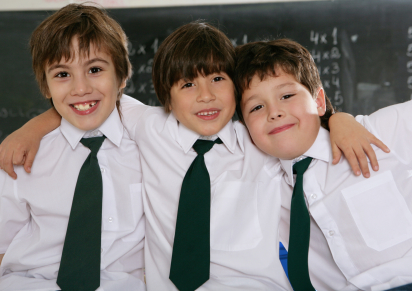 Striped Ties
The striped necktie has its origin in Great Britain, and came into fashion during the end of the 19th century. Initially, the striped tie was used as part of a formal Military uniform. Each British Military Regiment used a special set of colors that were proudly displayed on a soldier's necktie. For that reason, experts still speak of Regimental Ties, which are still quite popular today. Soon after, private clubs, as well as schools adopted the striped necktie. This tradition is kept up until today.

Pre-tied Clip-on Ties
On some occasions we receive request for boys pre-tied clip on neckties of a particular striped necktie design. The clip-on tie is pre-tied and simply clips onto a shirts collar. This brings many benefits when choosing a school uniform tie:
The tie is pre-tied. This will make it much more convenient for kids to wear the tie correctly. Safer: Clip-on ties are not tied around the neck, but are clipped onto a shirt's collar. A clip-on tie will prevent accidental choking. More Uniform Look: Besides all having a uniform length, clip on ties have their knots pre-tied. This will guarantee a very uniform look.
Necktie Colors
Almost always, our customers need ties that match their school colors. At Uniform Ties we have our own in-house designer that can help you create your custom school uniform necktie. Simply contact us to get more information on designs, color matching, and pricing.

Durable Neckties:
When kids play, it is unavoidable that their clothes get dirty. Neckties are difficult to clean however. They cannot be washed and should only be dry-cleaned when absolutely necessary. Instead of silk neckties, we recommend more stain resistant microfiber neckties for school uniforms. They are much more carefree, do not absorb stains, and also won't wrinkle as easily.