Hotels and Restaurants
Every industry has its own unique needs when it comes to their employees' uniform. A large group of our customers come from the Restaurant and Hotel industry, and from them we have learned a few commonalities that are typical for this industry.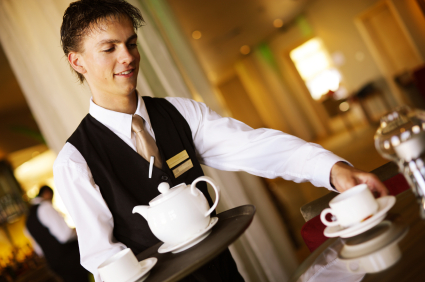 Neckties, Bow Ties, and Matching Pocket Squares.
Depending on your restaurant's or Hotel's image and theme, bow ties might be better suited than neckties. Bow ties are the most formal piece of men's neckwear, that give off a very elegant and professional look. In most cases our customers combine bow ties with matching pocket squares for their employees' uniform. To ensure a uniform look, all our bow ties are pre-tied and easily clip on to the shirt's collar. Not only will this be more convenient for your restaurant staff, but the adjustable length will also guarantee that the bow tie will fit regardless of collar size. Most common are solid color ties that match your house colors.

Wrinkle Free and Stain Resistant Ties
No matter how careful your staff is when serving your customers, spilling food or drinks does happen on occasion. If this is a concern to you, then consider bow ties for your restaurant uniform ties, as bowties are less likely to get dirty than neckties. If you still prefer the look of neckties to the bow tie, than stain resistant ties made from microfiber are your best choice. Microfiber is a man-made material that does not absorb dirt as easily as silk. They also wrinkle much less, which is another great advantage for your staff since it is not as important, but still recommended, for microfiber ties to be untied after each wearing. Microfiber ties are woven from a microscopic thin yarn that creates a soft fabric with excellent shine. They are almost indistinguishable from a 100% silk tie.

Quality Products at affordable prices.
Especially restaurant owners and mangers know the challenge of high employee turn-over. Recruiting, hiring, and training new employees is just one of the hassles associated with a high turn-over rate. The cost and thought of continuously outfitting your newly hired waiters and waitresses also needs to be considered. Regardless weather you decide to charge back your employees for their uniforms, or decide to provide them free of charge, our customers that come from the Restaurant and Hotel industry are typically more cost conscious. At Uniform-Ties.com we have the prefect ties for your situation. We carry a large assortment of microfiber ties that are not only stain resistant and less likely to wrinkle, but are also 30% lower priced than silk ties.