Neckties for Trade Shows and Company Events:
Almost every company has annual events or participates in annual industry trade shows. For such events many of our clients need uniform neckties for their employees. If you are looking for a uniform necktie design for such an occasion, then the information below might help you find the perfect matching ties.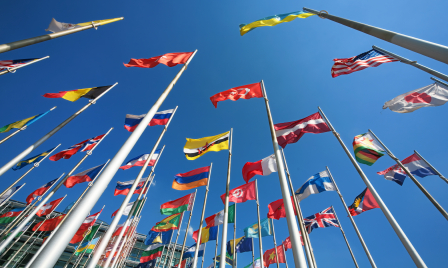 Necktie design and color:
When our clients need neckties for a trade show, it is important that the color as well as the necktie design fits their company's identity. If your house color is an apple green for example, then some part of the tie should be in this color. Most common are striped neckties, as they have a very elegant and classier look than the solid color ties you see so often at other companies' booths.
Fast Turn-around time and delivery.
Many times our clients decide last minute that they will need uniform neckties for their trade show. It is not uncommon for us to receive a call on a Thursday evening with a request to supply neckties for a Trade Show starting on Saturday. Most of the time this is no problem for us. At Uniform Ties we have a 24/7 toll-free support line. A live person will be able to assist and complete your order. We carry our own inventory and ship out daily, and are dedicated to meet your deadlines. In addition we offer guaranteed 24 hour rush shipping within the continental US. Your Trade Show will be a success!

Quality Silk Ties:
The ties your staff will be wearing for the event need to look and feel just like any other expensive tie you would by for your daily business attire. You will need ties that will make your employees stand out from the competition. At Uniform-Ties.com we design our own ties and outsource the production to silk manufacturing specialists. We inspect all our ties before we ship them out and guarantee the highest quality products.