Neckties for Security Personal
Another common industry that regularly orders uniform neckties from us are security companies. They all have on thing in common; they need the so-called clip-on neckties.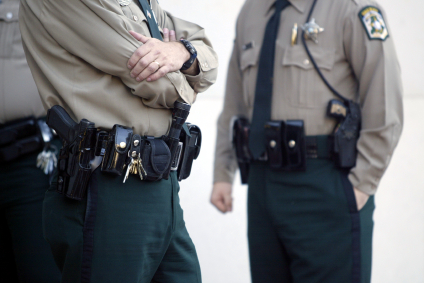 Secure Clip-on Ties:
As the name suggests, clip-on ties are pre-tied and are clipped onto the shirt's collar. When worn, the metal clip that is sown into the necktie is unnoticeable and it is almost impossible to distinguish the look of the clip on tie to a self-tied necktie. Clip-on ties are also called secure ties since they are not worn around the neck. This is important for security companies as it protects their employees from unnecessary accidents during a situation. At Uniform Ties we carry a large assortment of solid color clip on ties and elegant striped clip on ties. In addition, we can also design a custom necktie that exactly matches your company's color and/or logo.

Color of the Ties:
Do you have a house color that is part of your staffs' uniform? If so, chances are that we either already have a clip on tie with your colors in stock, or can custom make one for you with an exact color match.

Quality Products to affordable prices:
Outfitting your entire staff with new uniform ties can be quite costly. At Uniform Ties we have our own in-house design team and outsource all our production to silk specialists oversees. By narrowing the distribution channel, we are able to pass on the savings directly to you. For large quantity orders, simply call our 24/7-support line and a live person will be able to assist you with anything from your necktie design, turn-around time, as well as pricing.

Secure clip on ties for security companies and security personal uniforms. Pre tied clip on men's ties that are tied to the right length and clip-on to your collar.