Catering Services
Similar to restaurants and hotels, catering services mostly look for solid color neckties and bow ties for their waiters and waitresses. Even though both industries are closely related, we have learned that caterers have a few needs regarding their uniforms that are unique to their industry.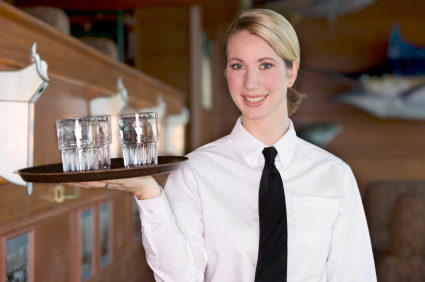 Large Color assortment of Neckties and Bow Ties
In order to differentiate from the competition, we have found that some caterers change their uniform necktie or bow tie color to match the customer's party theme. Weddings are a common example that have a unique color theme. At Uniform-Ties.com we offer a very wide range of colors in neckties, bow ties, and pocket squares. Even though it is quite common that caterers supply their female staff with neckties or bow ties, we also offer matching scarves for women. Most common are solid color ties.

Care-free Ties with high stain resistancy.
Little mishaps of spilling food or drinks do happen on occasion. If this is a concern to you then bow ties are the best choice for your staff. If you do prefer neckties, then stain resistant ties that are made from a care-free microfiber fabric are a great alternative to bow ties. They are almost indistinguishable from silk ties, come in a wide range of color choices, and are also less expensive - making them the most common choice for our clients working in the catering industry.

Fast turn-around time on orders placed.
Since some caterers choose different color neckties and bow ties for each event, the uniform does change on occasion. At uniform-ties.com we understand that you often times work with a tight schedule and always need to meet deadlines for each client you serve. We do carry our own inventory, and typically have all ties in large quantities in stock, ready to ship. We ship out daily and keep you updated on your order status and tracking information. For the fastest turn-around time we do offer next day rush shipping within the continental US.

Low cost of ties
Most Catering companies carry more than just one color necktie or bow tie in stock. Choosing a different piece of neckwear, and different color allows you to easily change the look of your staff with minimal investment. For less formal events during a warm spring day, a fresh color necktie, such as yellow ties, would be a great choice for your servers. For more formal events, darker colors, and/or bow ties are better suited. Besides having different colors of both ties and neckties available for their staff, it is advisable to keep some extra supply on hand to allow for the replacement of damaged and stained ties. The low cost neckties made from microfiber are a perfect choice. Not only do they cost 30% less than silk ties, but they will also last longer and are more care-free.

Pre-tied clip-on ties
Does your staff know how to tie a tie? Even though we have very easy to follow instructions on how to tie a necktie as well as how to tie a bow tie, it might be difficult for your staff to tie the ties in a way that they will all look the same. Tying a necktie to the right length as well as tying a knot that is centered between the shirt's collars is not something every man can do the first time around. Learning how to tie a tie the right way will take some time, that you might not have. As an alternative to the traditional self-tie neckties, we carry clip-on neckties. The ties are pre-tied to the perfect length and simply clip onto the shirt's collar. The clip is hidden in the back of the tie, making it almost impossible to notice. Bow ties should almost exclusively be clip-on bow ties. All our bow ties are prettied and can easily be adjusted to any collar size.